If you want to share some information through your content but you want to make it more interesting by adding some blur effect on it or in Discord, or we call it a spoiler.
It is possible on both Mobile and Desktop doesn't matter either iOS, Windows, or Android work well on all platforms.
Even in a web version of discord www.discord.com, you can make changes in your content by mark images or text as a spoiler on Discord.
And don't worry, it's a straightforward process. There is nothing like a hindrance.
Thanks to Discord's latest version, Many people have requested and comments on forums to Discord.
So after listening to feedback, the developers finally added this useful feature to their platform and made it very easy to add spoiler tags on content.
If you are aware of my website, then you know about my latest discord posts collection here.
You get all the solutions related to This instant messaging and VoIP app Discord.
How to Spoiler on Discord
Spoilers are hidden messages. Usually, people using the mark as a spoiler on Discord to share something with spoiling to add fun or suspense effects for other group members.
And they decorate your messages with emojis, gifs, and images, but they never know about this spoiler feature because it updated recently.
So the main thing is how to mark as a spoiler on Discord mobile as well as desktop.
If you are used to Reddit, you definitely listen about Markdown Syntex.
It's a markup language used for adding or removing something by adding codes just before and after the content.
So how it works on discord lets check below.
Also start New Year with Latest Top 10 Best Discord Bot to Use in 2021 Groove Music, Rythm, MEE6, Dyno & All.
How to Spoiler on Discord on PC
If you are using Windows 10 and having a Discord Desktop client, then this will become much easier.
First, open up the discord app on the desktop and visit the discord chatbox.

Now type any message which you want to make a spoiler.

And then, select the part of your statement that you want to mark as a spoiler.

After that, highlight the specific part of the discord message by Right-click on it and select "

Mark as spoiler

."
Press Enter and Send the message. Your spoiler text will now be hidden with a black box.
If you using discord feature look at this best one How to Screen Share on Discord In Desktop or Mobile Plus Video Chat.
Other Alternative Method of How to Spoiler on Discord in Desktop
By chance, if the first method has any error or it does not work for you, then here is another best way by markdown codes which we discuss above.
It works flowless whether you were accessing discoed through app or Browser.
You can use markdown commands by these two forms. See how it works.
1.) Use Markdown Syntax: Type these vertical bars ( || ); by using the keyboard, press the "Shift + Back Slash" key simultaneously.
These bars will ensure your message is hidden within a spoiler tag, for example, if your Message is How to mark a spoiler on Discord.
Then just write it like ||How to mark a spoiler on discord|| that's it. And people need to click on that to reveal the information.
2.) Use /spoiler function: Another option rather than verticle bars is you need to Add /spoiler just before any message, not after. And hit the enter button. It will directly convert as a spoiler.
How to Spoiler on Discord on Mobile ( iOS or Android)
This is a universal method for all platform which you are using. Have a look
Open a chat box inside the Discord app and type any message.

Now Wrap the text like 

||How to spoile||

 in bars, hit the send button, and they will show to others as a spoiler.
If you are using only iOS to communicate, then we recommend you to use the direct option of "Mark as spoiler" option appears just after you highlight the text by pressing it for 1 or 2 seconds.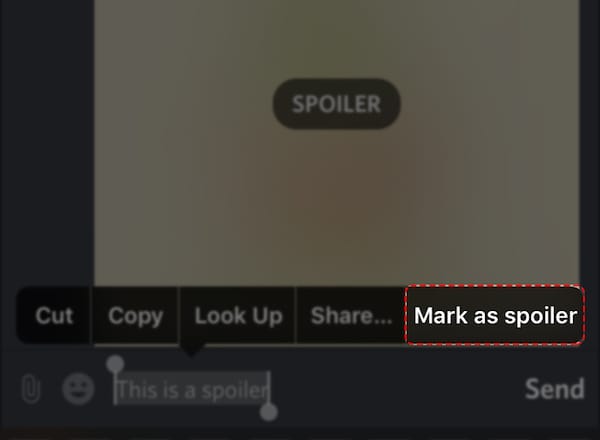 Those who want to secret their content, just keep it under two sets of double pipes, and that spoiler phrase only is seen by other Discord users who click on it to expand the content.
Also, checkout How Does Discord Make Money and How to Make Money in Discord.
How to mark images or pictures as a spoiler on Discord
Anyone can place attachments such as an image or video file as spoilers in Discord.
This interesting feature is possible for all platforms in desktop Windows, macOS, or Linux Discord clients.
Just upload the image or video file and tickmark it as the "Mark as spoiler" checkbox before Upload it.
Here you can see in the image how the option works.
Unfortunately, it is not possible to send spoiler images by this technique on Discord via mobile.
Because there is no option to perform this operation So currently available on the desktop client only.
Conclusion
The discord app is more popular in-game streaming community. And because of its feature and update, it added in lists of top 10 messaging apps in the world.
Using spoiler is a unique thing in Discord if you were more enthusiastic while you chatting, so you can add it to any movie climax or something interesting eye-catching content.
You can see this type of effect on WhatsApp or twitch when the image doesn't seem downloaded. That's all about the spoiler.
FAQs
Q: How to mark something as a spoiler on Discord?
A: Usually, for spoiler's on Discord, you can use ||Type your text here|| which this The "||" key you can type by holding "Shift + Back Slash." at the same time is right below the backspace, which covers your text or phrase under a censor content/or a spoiler.
Q: How to mark an image as a spoiler on Discord?
Take

 the photo and save it to your device.

You can also use existing images.

Now the open photo name and rename it by using the 

SPOILER

_( And whatever the file name you want to add )

After renaming it, just upload it to the discord server and send it.
Q: How do I blackout or highlight text in Discord?
A: When you select the 'Mark as spoiler" option, the text or word becomes automatically goes into a blackout or highlighting. There is no other way till now rather than we mentioned above.